Unique programming requirements included clay, fiber, jewelry, and woodworking studios – and associated equipment, air quality control, and energy consumption reduction. LEED Platinum certified and exceed NC Senate Bill 668 requirements for energy and water efficiency. Key integrated green design features include:
•Energy efficient building envelope;
•Daylighting in all classroom and studio spaces;
•Solar thermal radiant floor heating and solar thermal absorption chiller cooling systems;
•112 KW Photovoltaic system to generate electricity;
•Solar domestic hot water;
•Natural ventilation strategies;
•Low & no VOC content materials;
•Use of rainwater for toilet flushing and cooling tower;
•Constructed wetland for detention and treatment of stormwater runoff; and
•Indigenous landscaping with no irrigation demand.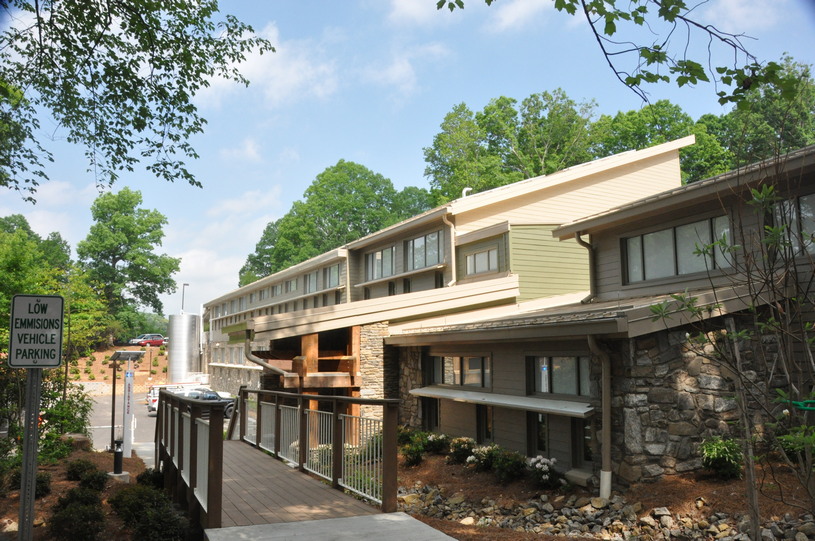 Under the leadership of Dr. Rose Johnson, Haywood Community College is dedicated to practicing and teaching sustainability; partnering with Innovative Design on the new Creative Arts Building with their 30+ years experience will ensure a design that will impact our community and state well into the future.
Debbie Trull, Former Executive Director of Administrative Services; Haywood Community College
LOCATION
Clyde, NC
Size
41,500 SF
DATE
2012